R&G Cheesemakers
You all know how much I love trying out new cheeses from brands that I love. But you know what I love even more? Trying out entirely new brands!–especially local brands.
WELL. I've got a brand new local company for you to try, and let me tell you, so far I'm in love. They're called R&G Cheesemakers from Troy, New York and they make an array of different, high-quality cheeses, using both goat and cow's milk.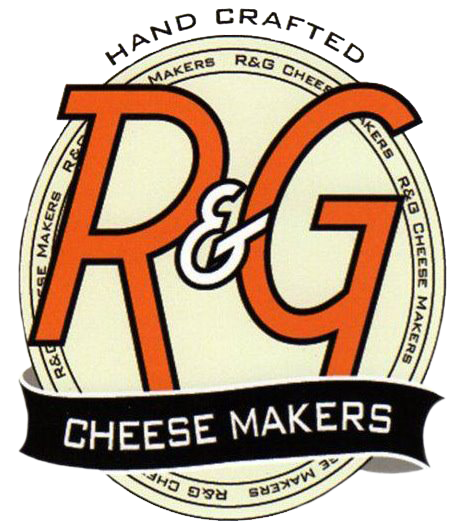 "Head cheesemaker Sean O'Connor takes pride and care in his product to ensure the highest quality cheeses and yogurt grace your table. From garlic to chipotle, maple sugar to vegetable ash, fennel pollen to truffles, Sean is continuously creating new and innovative flavors to accompany his quality chevs, camemberts, and cow's milk cheeses."
So far at my Vineyard Market specifically, we've brought in 3 different goat cheeses: Blackbert, Strawberry Rhubarb Chevre, and Fire Hot Pepper Jam Chevre. I've tried all of them personally–and they're SO GOOD.
The Blackbert is a Camembert-style ash-ripened cheese made with goat's milk and decorated with a striking layer of vegetable ash through the center. If you've ever had Cypress Grove's Humboldt Fog, this cheese may look familiar; however, the flavor is a bit more pronounced and goat-y. It really is just a nice cheese.
And then the chevres–oh my goodness, the chevres. They're just so creamy. The Strawberry Rhubarb Chevre has the slightest pink hue to it and is absolutely delicious on some French bread or even raisin walnut or rustic rye bread. The flavor is perfect–sweet but not too sweet, and I could see this going well with so many different accompaniments; honey roasted cashews, fig and black pepper jam, or fresh ripe raspberries.
The Fire Hot Pepper Jam Chevre is everything I expected and more. Usually when I have a spicy, creamy cheese, it's honestly not spicy enough for me–but this cheese is perfect. The heat is definitely there; it almost creeps up on you and gives you a good, solid medium spice, and it's complimented so well by the creaminess of the goat cheese. Also fantastic on crusty bread, this spicy delight is also great with sweeter fruit-filled crackers for a contrasting flavor.
I hope you're all as excited as I am about these new products & company. Check your local Bottle King Vineyard Market for availability!